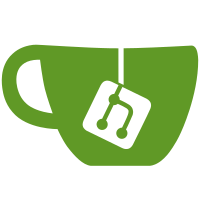 Marc Alexander Lehmann
4 changed files with 6 additions and 5 deletions
@ -15,6 +15,8 @@ TODO: document portability requirements for atomic pointer access
TODO: possible cb aliasing?
TODO: document requirements for function pointers and calling conventions.
- ev.h wasn't valid C++ anymore, which tripped compilers other than
clang, msvc or gcc (analyzed by Raphael 'kena' Poss).
- when not using autoconf, tighten the check for clock_gettime and related
functionality.


@ -2615,7 +2615,7 @@ ev_set_invoke_pending_cb (EV_P_ ev_loop_callback invoke_pending_cb) EV_THROW

}

void

ev_set_loop_release_cb

(

EV_P_

ev_loop_callback

_nothrow

release

,

ev_loop_callback

_nothrow

acquire

)

EV_THROW

ev_set_loop_release_cb

(

EV_P_

ev_loop_callback

release

EV_THROW

,

ev_loop_callback

acquire

EV_THROW

)

EV_THROW

{

release_cb

=

release

;

acquire_cb

=

acquire

;



@ -660,8 +660,7 @@ EV_API_DECL void ev_set_userdata (EV_P_ void *data) EV_THROW;

EV_API_DECL

void

*

ev_userdata

(

EV_P

)

EV_THROW

;

typedef

void

(

*

ev_loop_callback

)

(

EV_P

)

;

EV_API_DECL

void

ev_set_invoke_pending_cb

(

EV_P_

ev_loop_callback

invoke_pending_cb

)

EV_THROW

;

typedef

void

(

*

ev_loop_callback_nothrow

)

(

EV_P

)

EV_THROW

;

EV_API_DECL

void

ev_set_loop_release_cb

(

EV_P_

ev_loop_callback_nothrow

release

,

ev_loop_callback_nothrow

acquire

)

EV_THROW

;

EV_API_DECL

void

ev_set_loop_release_cb

(

EV_P_

ev_loop_callback

release

EV_THROW

,

ev_loop_callback

acquire

EV_THROW

)

EV_THROW

;

EV_API_DECL

unsigned

int

ev_pending_count

(

EV_P

)

EV_THROW

;

/* number of pending events, if any */

EV_API_DECL

void

ev_invoke_pending

(

EV_P

)

;

/* invoke all pending watchers */



@ -194,8 +194,8 @@ VARx(unsigned int, loop_count) /* total number of loop iterations/blocks */

VARx

(

unsigned

int

,

loop_depth

)

/* #ev_run enters - #ev_run leaves */

VARx

(

void

*

,

userdata

)

VAR

(

release_cb

,

ev_loop_callback

_nothrow

release_cb

)

VAR

(

acquire_cb

,

ev_loop_callback

_nothrow

acquire_cb

)

VAR

(

release_cb

,

ev_loop_callback

release_cb

EV_THROW

)

VAR

(

acquire_cb

,

ev_loop_callback

acquire_cb

EV_THROW

)

VAR

(

invoke_cb

,

ev_loop_callback

invoke_cb

)

#

endif