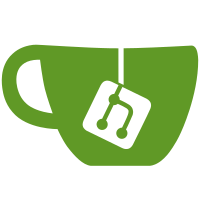 Marc Alexander Lehmann
2 changed files with 11 additions and 2 deletions
Changes

ev.pod
@ -12,6 +12,9 @@ TODO: maybe allow events = 0 for io watchers
(found by b_jonas).
- new ev_io_modify mutator which changes only the events member,
which can be faster.
- officially allow a zero events mask for io watchers. this should
work with older libev versions as well but was not officially
allowed before.
- do not wake up every minute when timerfd is used to detect timejumps.
- support a lot more "uncommon" compile time configurations,
such as ev_embed enabled but ev_timer disabled.


@ -1831,8 +1831,14 @@ opportunity for a DoS attack.
=item ev_io_set (ev_io *, int fd, int events)
Configures an C<ev_io> watcher. The C<fd> is the file descriptor to
receive events for and C<events> is either C<EV_READ>, C<EV_WRITE> or
C<EV_READ | EV_WRITE>, to express the desire to receive the given events.
receive events for and C<events> is either C<EV_READ>, C<EV_WRITE>, both
C<EV_READ | EV_WRITE> or C<0>, to express the desire to receive the given
events.
Note that setting the C<events> to C<0> and starting the watcher is
supported, but not specially optimized - if your program sometimes happens
to generate this combination this is fine, but if it is easy to avoid
starting an io watcher watching for no events you should do so.
=item ev_io_modify (ev_io *, int events)