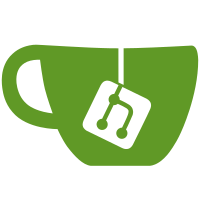 Marc Alexander Lehmann
6 changed files with 6 additions and 4 deletions
@ -1,5 +1,6 @@
Revision history for libev, a high-performance and full-featured event loop.
3.52 Wed Jan 7 21:43:02 CET 2009
- fix compilation of select backend in fd_set mode when NFDBITS is
missing (to get it to compile on QNX, reported by Rodrigo Campos).
- better select-nfds handling when select backend is in fd_set mode.


@ -132,7 +132,7 @@

.

\" ========================================================================

.

\"

.

IX

Title

"LIBEV 3"

.

TH

LIBEV

3

"2008-12-14"

"libev-3.5

1

"

"libev - high performance full featured event loop"

.

TH

LIBEV

3

"2008-12-14"

"libev-3.5

2

"

"libev - high performance full featured event loop"

.

\" For nroff, turn off justification. Always turn off hyphenation; it makes

.

\" way too many mistakes in technical documents.

.

if

n

.ad

l